If you've ever made it a point to return to a particular doctor, it was probably because their bedside manner was impeccable. Just as most people don't want to have unpleasant or rude conversations with others socially, they also don't want to endure that treatment when they are getting help.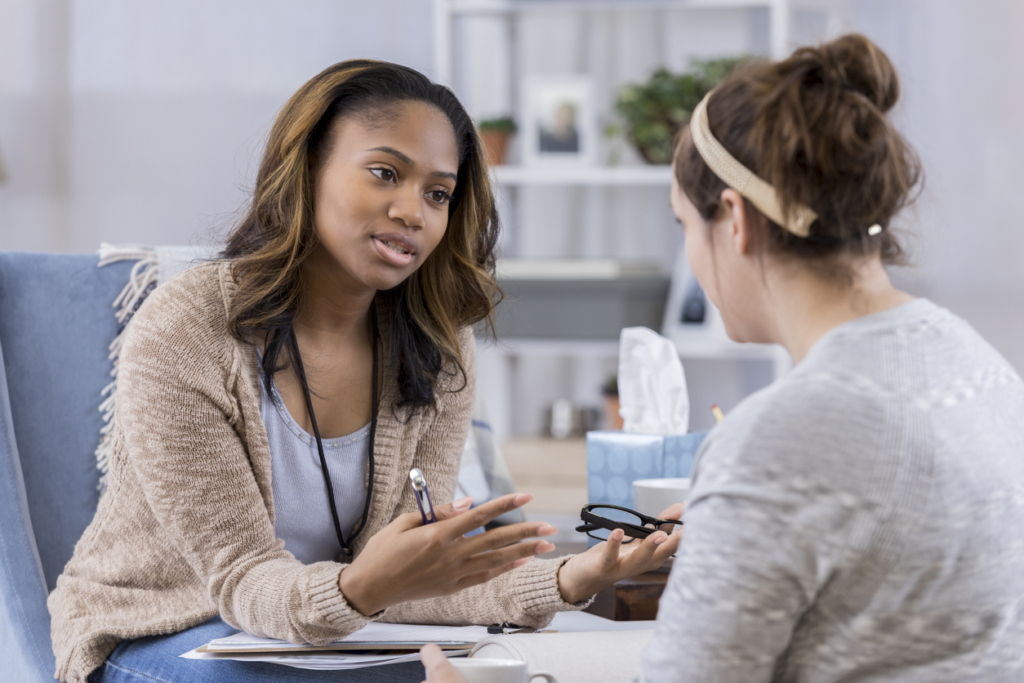 This is especially true for patients in dire need of care. When you are at your lowest, you need someone to help raise you up and provide respectful and effective care. Relationships between doctors and patients are important for positive outcomes, and this is also true of mental health providers. In fact, the relationship between a therapist or psychologist and their patient is crucial to promoting recovery and progress, leading to better patient outcomes.
From showing respect to practicing reflective listening, we've collected some of the most important reasons why good care provider and patient relationships make a difference in recovery. We'll also take a look at how therapists and counselors can build strong ties with their patients.
Content
How much do good relationships between providers and patients matter?
According to the American Psychological Association, strong relationships are at least as important to using the right approach to treatment when working with patients. If you consider this for a moment, it makes perfect sense. If you are struggling with your mental health, whether it's on a short-term or long-term basis, the last thing you want to do is confide in someone who doesn't seem to care. The same researchers mentioned in the article linked to above believe that therapeutic relationships might be even more important than the treatment techniques utilized.
Given just how crucial positive relationships are to patient outcomes, you might be wondering what therapists, counselors and even other healthcare providers should be doing when interacting with their patients. We will discuss this in more detail below.
Respect
It is important for counselors to show their clients respect. There is a lot of stigma associated with seeking mental healthcare, and some patients go into counseling scared that their counselor will think they're 'crazy'. If they are treated with disrespect, they might believe that they were right to be worried and cease treatment altogether. This, in turn, can lead to a serious negative impact on the patient's life, and also the people in their life.
As a counselor, you can show your patients respect by listening to their concerns and never making light of them. Even if you believe that the concern in question is illogical, you should approach the topic with empathy. Let the patient know that you understand their concerns and are supporting them every step of the way. This respect will likely be returned, and the patient-provider relationship will continue to thrive.
Counteracting resistance
We mentioned this briefly above, but there is a lot of societal and cultural pressure around needing help. If you are struggling with something common and physical in nature, for example, your need for extra help and care will likely be excused and seen to be reasonable given your circumstances.
People living with 'invisible' disabilities, on the other hand, receive a lot of pushback about caring for their mental health. This has begun to change over the past few years and hopefully won't be an issue in the near future, but at the current time, many patients hesitate before seeking help and are hesitant to apply their counselor's recommendations to their lives.
One way to break through this resistance to treatment is by building strong and trusting provider-patient relationships. This allows the patient in question to gradually feel more comfortable confiding in their counselor and build their confidence not only in sharing hard topics but also in making positive changes to their lives moving forward.
Confidentiality
This should go without saying, but as you learn how to become a mental health counselor, one of the most important ethical considerations to master is confidentiality. On courses such as the ones at American International College you can improve your knowledge on how to build a healthy and effective provider-patient relationship.
You must be able to interact with your patients and keep their concerns, issues, struggles and even their triumphs to yourself. There might be exceptions to this, but they are very limited in nature. If you are worried that a patient may hurt themselves or others, for example, you might be legally able to disclose certain information to law enforcement or medical personnel.
Once clients believe that they can trust you not to share what they tell you, they will become less resistant to treatment and more likely to share all of their concerns and needs.
Reflective listening
Listening to patients is critical. With that said, simply listening is not enough. Counselors and other mental health professionals must be able to listen and show their patients that they are listening. This is done by responding actively to what the patient is saying and keeping your attention completely focused on your patient even while speaking. Listen to what they have to say and then audibly reflect on what the information tells you or means to you.
Because sharing intimate thoughts and concerns with mental health providers is difficult, patients need active feedback on the information they share to a certain extent. In general, counselors should aim to let their patients know that they are being understood and heard as often as possible without interrupting their stream of consciousness. This is the hallmark of a qualified care provider.
Are you interested in learning more about mental health counseling and the importance of provider-patient relationships? If so, keep in mind the information above as you look further into the field. Before long, you'll be ready to make a positive difference in your patients' lives.