White spots generally appear on the skin where there is a loss of skin pigmentation. It may appear due to a skin disease called Vitiligo is also known as Leucoderma in which white spots appear on different parts of the human body. This disease is common in both male and female. The body parts which are mainly affected by Vitiligo are hands, feet, eyelids, face, armpits, lips, chest, and scalp. Moreover, the areas around the mole and are exposed to the sun can also be affected by this disease. These spots appear because people do not take care of their natural health i.e. healthy diet and lifestyle.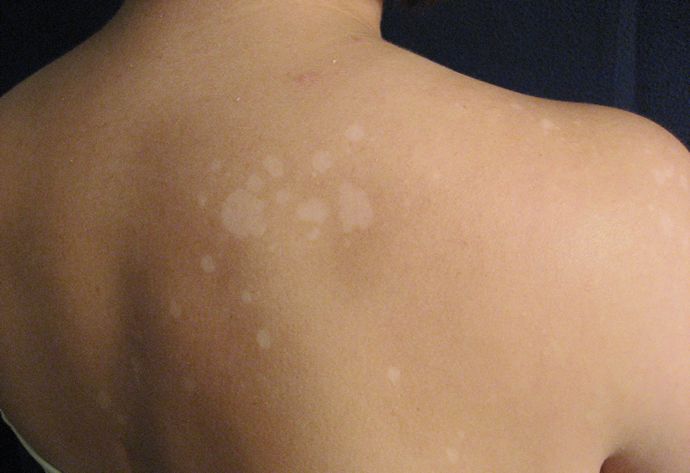 Symptoms of Vitiligo
A person won't feel irritation, itching or dryness when he/she got vitiligo. However, it is very easy to notice whether you are suffering from this disease or not by seeing discoloration on the skin. When there is a rapid loss of skin pigmentation it means the development of vitiligo has started and if once it affects the human skin it may not return to its normal skin color. For this reason, it may lose the self-confidence in people and they feel embarrassed because of the white big spots.
Diagnosis
Leucoderma is not considered as a basic health problem and a cause of skin cancer. It can be treated effectively. Whenever you noticed the development of Vigilito consults your doctor or dermatologist. They'll diagnose the disease after taking a physical exam and medical history. Don't forget to mention any recent sunburn or detail that will provide a little more information to your doctor regarding the white spots. Drinking more water will affect the natural health and may reduce the growth chances of vitiligo.
Treatment
It is not possible to remove the spots; however, cosmetics can be used to conceal them.
Avoid sunburn as it may worsen your condition.
Those people who are suffering from a severe case of Vitiligo can go for surgery like micro pigmentation, skin grafting, and melanocyte transplants.
  These spots can be reduced by taking care of the natural health.