I have e confession to make: I used to think that banana bread was a plain quick-loaf made with al-purpose flour I'd better avoid. This is why having a smart cooking app is very good for you. MyGreatRecipes proved me oh-so-wrong, showing that banana bread can be super healthy and nutritious.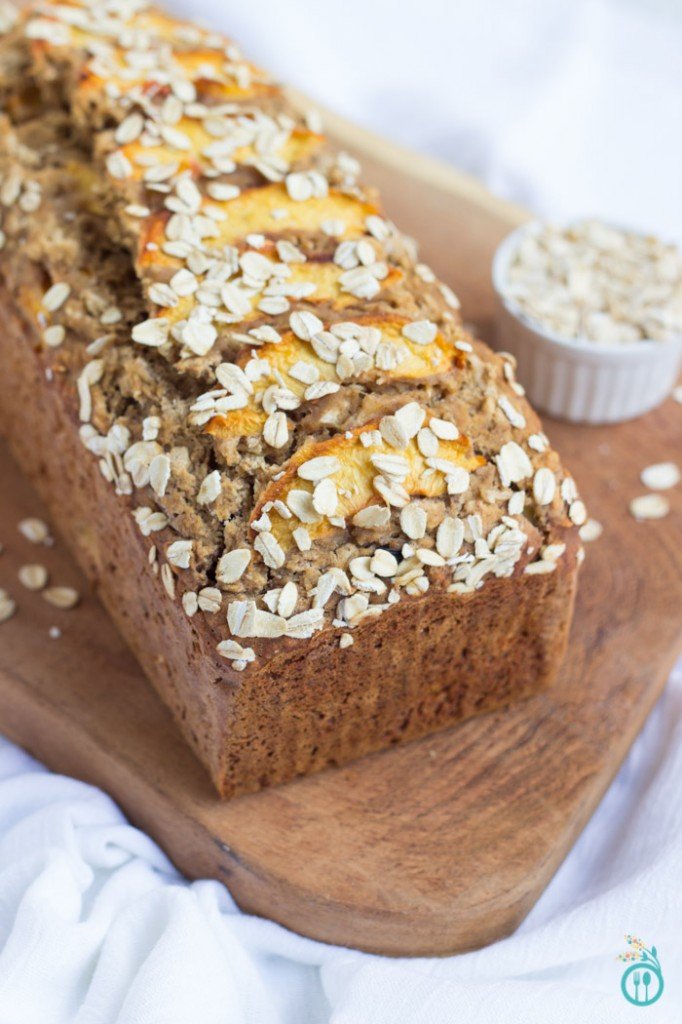 Oatmeal is the best breakfast ever. You can make wonders with oatmeal. Imagine what you can do if you put oatmeal into baked goods. An explosion of healthiness and deliciousness, all in one place. And what better place is there than simple banana bread?
Health Benefits from Oatmeal in Banana Bread
Oatmeal is a rich source of protein, dietary fiber, vitamin B1, manganese, phosphorus and what not. These nutrients create a combo that is very good for you:
lower cholesterol levels;
reduce risk of cardiovascular disease and heart failure'
enhance the immune system;
stabilize blood sugar and reduces the risk of type 2 diabetes;
protect against breast cancer.
Bonus:  oatmeal is well-tolerated wheat alternative for people with celiac disease.
Chocolate Oatmeal Banana Bread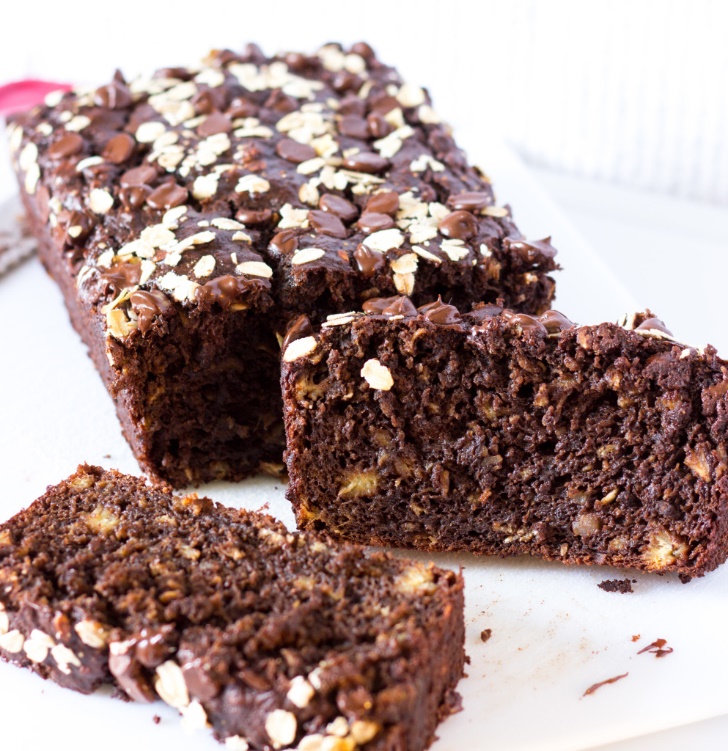 How to use oatmeal in banana bread? The chocolate recipe I usually make mixes ¾ cup oats with ½ other type of flour. I have seen this combination vice versa: ½ cup oats + ¾ cup flour. The choice is yours, and you can use all-purpose or healthier alternatives like whole wheat, coconut, almond, soy or another type of flour. However, you can make your loaf with oatmeal ONLY. In that case, 3 cups will suffice.
The chocolate taste comes from 1/3 cup cocoa powder and two chopped Devine chocolate bars but you can use any chocolate bar. For more decadent banana loafs I usually choose Snickers or Mars. You can also use chocolate chips instead of chocolate bars. Try adding the chocolate chips and some more oats on top of the loaf.
Healthy chocolate banana breads can be made with dark chocolate chips. There are also vegan chocolate chips if you wish to make a vegan banana bread. In that case you can't use the "must-ingredient" eggs. Try egg substitutes like chia or flax eggs or just omit eggs altogether. Unsweetened applesauce is alternative for both eggs and butter and is widely used in vegan banana breads.
Chocolate pairs really well with berries in banana bread. Try with 1 cup raspberries in the batter.
Skinny Coconut Oatmeal Banana Bread
This skinny version of banana bread goes for other healthy ingredients: dark brown sugar instead of white sugar, unsweetened coconut milk and nonfat Greek yoghurt for extra moisture and softness, as well as unsweetened applesauce instead of butter.
 The beauty comes from the unsweetened coconut flakes and dark chocolate chips (1/2 cup each) added both inside the batter and on top of the loaf.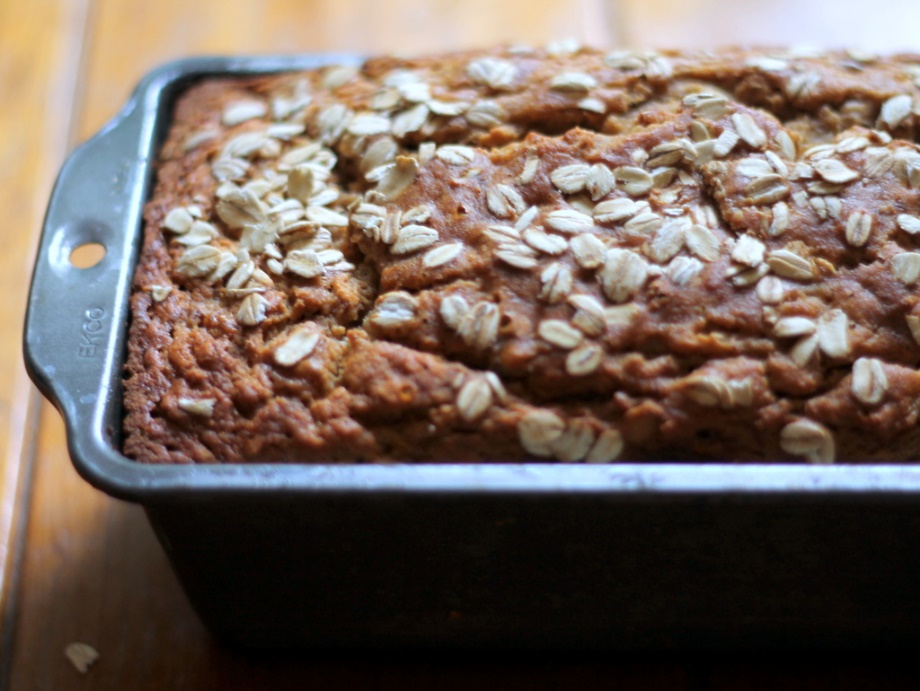 Nut Oatmeal Banana Bread
All kinds of nuts work for oatmeal bread. Not only will they bring a great taste, but they will also contribute extra protein and omega-3 fatty acids. I usually use ½ walnuts or pecans (or both) and add 1 teaspoon cinnamon. I like to prepare some light vanilla-based glaze to drizzle on top and sprinkle some more nuts.
Banana Bread Oatmeal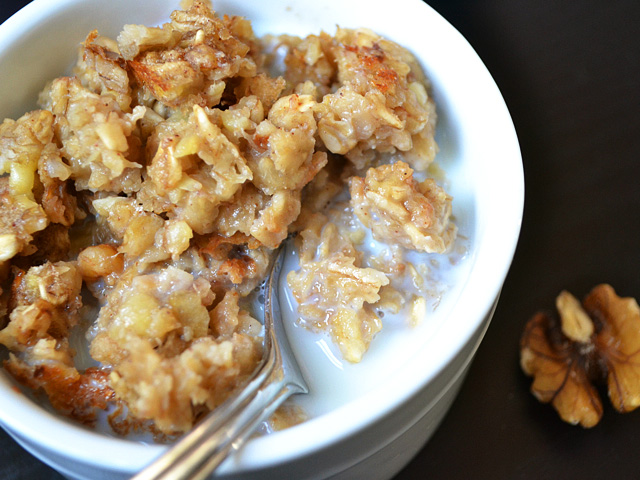 This is a great idea. Use pretty much the same ingredients as for banana bread. The banana bread oatmeal is moist, thick, healthy and delicious. It tastes just like banana bread and the best part is that it can stay refrigerated for a week. Just pour some milk over it in a cup and your breakfast is served.